As I mentioned earlier today in another post, this week is Fall Giveaway Carnival time over at Heavenly Homemakers.
How about ANOTHER giveaway??
This giveaway is for a A CUSTOM PHOTOCARD OR ANNOUNCEMENT: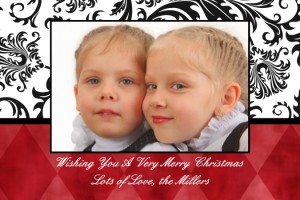 How does a FREE photocard design sound?   Besides blogging about crafts (and digital scrapbooking), I also run a digital scrapbook/graphic design business. I offer a variety of products, like birth announcements, save the date cards, graduation announcements, wall art, and more.
You can see sample cards up close over at my etsy shop.
And, this first giveaway is for a CUSTOM design. The cards can be 4×6, 5×7, or 4×8 size (or any size you request, actually!)
Need your Christmas cards done this year?  No problem! Need a birth announcement?  No problem.  Need a party invitation?  NO problem!  I'll create what YOU want and need!
This is for the digital design – so you'll need a way to print them once I email you the design in JPG format, but there are so many options nowadays for printing – Walmart, Walgreens, Snapfish.com, Winkflash.com… and it's so affordable to print your own!
So, click over to my shop for a minute, check out the designs, and then just leave a comment about your favorite photocard sample , and you'll be entered to win!
I'll pick ONE random winner through at the end of this week!  Please remember to leave your email address.  If you win, I'll need to have a way to contact you!