So, yesterday was my birthday.. 37 years young!  I was actually out of town for half the day, as I had flown to California for a wedding shower on Saturday.  It was a very interesting way to spend my birthday… half in California, half on an airplane, half at home. (Yes, I know that's too many halves, but I'm a graphic designer, not a mathmetician).
Anyway… I'm CELEBRATING my birthday all month long with a great big sale in my DelightDesign shop.
Because it's my 37th birthday, I'm offering my CUSTOM photo card design services for 37% OFF.
Normally $15… Now $9.45!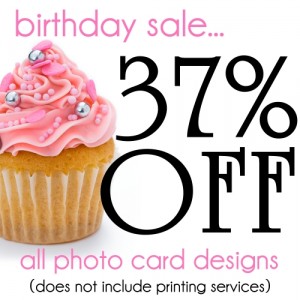 The sale lasts for the entire month, but I recommend getting your order in soon!
And… if you are interested in taking advantage of the Birthday Sale, but aren't QUITE ready to have your photo card made – THAT'S OK! Just make your purchase now, and then let me know when you are ready to have the card designed.
Any questions, just let me know!!